This is the day when I understood the saying "Programmers are machine who turns coffee into software".
I express my gratitude to Nishanth Anil, Vidya Sagar, Vic, Anubhav, Senthil Kumar, KirtiSagar, Abhishek, Pooran Prasad, Sagar Bhanudas Joshi and all the other Xhackers out there at the event.
I thought of not attending the event till the last night, because of exams at my college. But my partner at XhackNight called me and forced to attend the program, who knew that was for winning something great.
Finally I took a decision, Tirur – Bangalore train, General compartment ticket, traveled in sleeper class (Shared the seat with our friends Jaseel and Ramees).
Reached early morning there at Bangalore, and went to Microsoft R&D Center in no time.
The event started with few Keynotes by Nish, Pooran, etc. As usual they covered about Xamarin, its history and all. The Motivational stuff by Nish at his initial Keynote was awesome. (The only thing I hate about him is he is an Apple fan :P). He was the rock star of the event till afternoon sessions.
Yeaaah! It's Lunch time, had Fried Rice, etc. (No matter who sponsored it, thanks to them :D).  It was prayer time, started hunting for Prayer area at Microsoft R&D campus, didn't find, they redirected us to Microsoft Main Building, went there, after a lot of security check-ins, and search finally done with prayer behind the beautiful Badminton court there. (I don't know whether I can share this secret stuff inside Microsoft Campus Bangalore :P).
Reached late to the afternoon sessions, Nish was handling session on developing app for iOS using Xamarin. (Least interested being a windows phone fan boy :P).
Finally the great guy who 'stole the show' came up with his Game development sessions, using CocosSharp and related applications. He was handling the last session, where all the audience were bored like anything, but he started his session by motivating all of us! Thanks Vidya Sagar for that awesome session :).
@nishanil @iAmVMac I thought power star. Instead of superstar #xhackers 🙂

— Senthil Kumar (@isenthil) February 8, 2015
Then the session, we waited for long officially began. The xHackNight.
Me and my team mate Faheem, came up with an idea for helping those who are in search for Blood, and those who are interested to donate. Yes we sketched a blood donation app in my notebook (MicroProcessor Based Designing) which I took for studying. (I knew that I wont, but still!).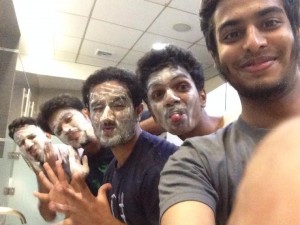 It was like 7 pm, finally we started designing UI, initially targeted for Windows Phone, same time Faheem was designing Android UI. Slowly covered the UI, and some basic stuff in like 4 hours. We had endless fun in between like squeezing into sleeping bag for 'selfie', fun in restroom for keeping us awake whole night.
Yes me and Faheem was coding even after midnight. Started doing the backend, Connection to Azure services, and all other features. But when I looked to clock after implement all these, and finalising Windows Phone part, the time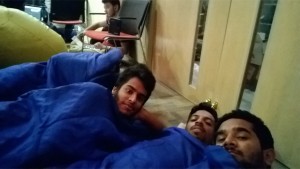 was 11 PM. I didn't sleep whole night! First time in my life coding whole night. It was the countless coffee, chocolate milk, espresso, Cappuccino, Lime tea, Cardamon Tea, and all other stuff they had there which made us awake whole night and  finish the works. Thanks Microsoft for sponsoring all those hot drinks.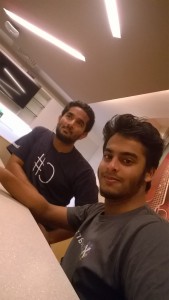 Whole night there was Anubhav, Nish, Senthil who helped me to accomplish the task, I don't have words to appreciate their helping mentality by not sleeping the whole day 🙂
Finally when we tried to implement the backend to the android UI we designed, our Xamarin started to crash 🙁 . After a lot of research and time wasting, we understood that the Xamarin version and SDK we used was old, we started updating. But the time fixed for Hack was over.
We presented our finished Windows Phone app, and half baked Android app to judges. It's lunch and judgment time.
Results announced, and YEAAH we won for the best Windows Phone and Azure Implemented app. Thanks Microsoft and Xamarin for Lumia 925!
This might be a long writing, but I just wanted to thank all those Xhackers for attending, helping and collaborating to learn and develop apps.
End Note: I miserably failed in the exam next day, 9/50 :P, but my teacher congratulated me for the achievement at event.